---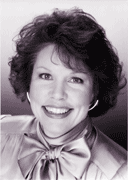 Kimberley Roberts always begins and ends each presentation by reminding her audience that It's never too late to become the best You can be! and she is committed to helping people do just that.
Whether writing her weekly Kim's ClassyTips newsletter, conducting seminars or workshops, coaching women and men, or speaking to an audience of hundreds, helping others to become the best they can be is always her highest objective.
Ms. Roberts began her career in the telecom industry, then moved into industrial manufacturing, and eventually to the medical field as Director of Marketing within a national medical conglomerate. Kimberley has her Bachelor of Business Administration degree in Marketing from Texas Women's University in Denton, Texas.
Kimberley has an extensive background in corporate training, as well as adult education. Both a program developer and trainer, she has been instrumental in bringing clear and useful insights for the importance of etiquette, manners, and intercultural understanding to thousands of business people through her many seminars, workshops, and writings.
In addition, she is a frequent contributing author to a number of domestic and international publications, and has been a member of the National Speakers Association.
Kimberley heads her own organization, KimberleyRoberts.com, that offers a wide range of training and coaching alternatives aimed at assisting women, men, and businesses be more successful, particularly in the international areas of etiquette, manners, and cross-cultural issues.